Intracept
FDA-Approved minimally invasive procedure To provide lasting Back pain relief
Intracept is a FDA approved, minimally invasive procedure, that targets the basivertebral nerves inside the vertebral bones for the relief of chronic vertebrogenic low back pain. Dr. Amit Sharma is one of the few interventional spine and pain specialists on Long Island proficient in performing this procedure.
Back pain is a symptom. It is not a diagnosis. Finding the root cause of back pain is not a simple task, especially once it has lasted more than 6 months. You can read more details about the investigative process of "Untangling Back Pain" later. There are many sources that can lead to back pain (arthritis, degenerative disc disease, degenerative spinal bones, ligaments tears, muscle sprains and even pinched nerves). If you have exhausted physical therapy, chiropractic care or other conservative modalities over the past several months. it is time to get to the bottom of you back pain cause.
A leading cause of chronic low back pain is degeneration of spinal discs, which ultimately leads to destruction of spinal bone end plates. The pain from these deteriorating bones is carried through the basivertebral nerve. The basivertebral nerve is found deep inside the vertebral bones of lower back. Intracept is an innovative, outpatient, minimally invasive procedure, which targets these basivertebral nerves and interrupts the transmission of pain signals.
With the Intracept procedure, the physician makes a very small 3-5 millimeter incision in the lower back. A small introducer is then placed through this tiny incision and gently drilled into the outer part of spinal bone. After this channel is created, a radiofrequency probe is then inserted to access the center of the vertebral bone where the trunk of the basivertebral nerve is located. Heat is applied through the probe desensitizing the nerve making it unable to transmit a pain signal. The procedure is done in either deep sedation or general anesthesia. It takes an average of 1-1.5 hours to complete. It is usually performed in a hospital outpatient centers and patients are discharged the same day. Details of procedure are provided later in this article.
The Intracept Intraosseous Nerve Ablation System is intended to be used in conjunction with radiofrequency (RF) generators for the ablation of basivertebral nerves of the L3 through S1 vertebrae for the relief of chronic low back pain of at least six months duration that has not responded to at least six months of conservative care,
and is also accompanied by features consistent with degenerated discs and end plates of vertebral column bones showing Type 1 or Type 2 Modic changes on an MRI such as inflammation, edema, vertebral endplate changes, disruption and fissuring of the endplate, vascularized fibrous tissues within the adjacent marrow, hypointensive signals (Type 1 Modic change), and changes to the vertebral body marrow including replacement of normal bone marrow by fat, and hyperintensive signals (Type 2 Modic change).
Key Benefits
Provides a treatment option for patients who have not responded to conservative therapy
Minimally invasive, outpatient procedure
Implant-free and preserves the structure of the spine
Provides durable relief of chronic vertebrogenic low back pain
Intracept Procedure is developed by Relievant Medsystems Company. So far, the company has sponsored three clinical trials enrolling approximately 400 patients and has shown safety and effectiveness of the Intracept Procedure.
These clinical-studies have proven a strong safety profile with less than 0.3% rate of serious Intracept Procedure-related complications reported across nearly 400 clinical trial patients.
Two company sponsored Level I randomized controlled trials have demonstrated that the Intracept Procedure is an effective treatment compared to both a sham-control procedure and to non-surgical standard care.
These three studies have also shown significant improvements in function and pain seen at 3 months after the Intracept Procedure are sustained more than 5 years after a single treatment.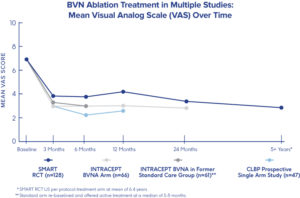 Procedure Steps In More Detail
During the days before surgery, a doctor may recommend that you avoid taking drugs that make it hard for blood to clot, such as aspirin and warfarin. On the day of surgery, you will be told not to eat or drink anything for several hours before the procedure. You can take any medication a doctor approves, along with sips of water.
A surgeon will perform intracept procedure in a hospital. You may have either local or general anesthetic. The surgical procedure is as follows:
Access the pedicle:  Under fluoroscopic guidance, the Intracept Introducer Cannula is advanced through the pedicle
Create the channel:  The Intracept Curved Cannula is utilized to create a channel to the trunk of the basivertebral nerve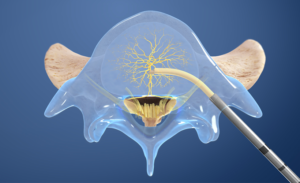 Place the RF Probe:  The Intracept Radiofrequency Probe is inserted into the curved path and placed at the basivertebral nerve
Ablate the BVN:  The Relievant Radiofrequency Generator is utilized to ablate the basivertebral nerve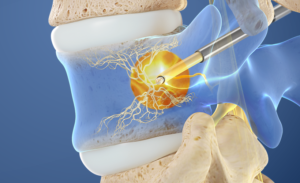 You will be able to go home from the hospital the same day. You should not drive unless a medical professional approves it.
Contraindications and Risks
Use of the Intracept Intraosseous Nerve Ablation System is contraindicated in:
Patients with severe cardiac or pulmonary compromise
Patients where the targeted ablation zone is < 10 mm away from a sensitive structure not intended to be ablated, including the vertebral foramen (spinal canal)
Patients with active systemic infection or local infection in the area to be treated
Patients who are pregnant
Skeletally immature patients (generally < 18 years of age)
Patients with implantable pulse generators (e.g., pacemakers, defibrillators) or other electronic implants
Situations where unintended tissue damage may result, based on the clinical assessment by the physician
Application with electrosurgical instruments NOT tested and specified for use with the Relievant RFG.
Frequently Asked Questions
How long is the Intracept Procedure?
Procedure times vary depending on patient's anatomy and the number of vertebrae to be treated. The average time of the Intracept® procedures performed have been approximately 30 minutes to 1 hour.
What is the recovery time following the Intracept Procedure?
Most patients resume regular activities within a week or two after going through the Intracept® Procedure. Each patient along with their physician determine appropriate recovery time and activities.
Is Intracept FDA Approved?
Yes, the Intracept System is FDA Approved.
How is Intracept different from surgical options for chronic low back pain?
Unlike spinal fusion, total disc replacement, and spinal cord stimulation, the Intracept® Procedure is implant-free and preserves the natural structure of the spine. Average recovery times following the Intracept® Procedure are less than reported for spinal fusion and total disc replacement.
Am I a candidate for the Intracept Procedure?
You should consult a spine specialist like Dr. Sharma to know if Intracept is the right choice for you. In general, few common reasons the Intracept procedure include:
you have suffered with low back pain for at least six months duration
you have not responded to at least six months of conservative care
your MRI shows Type 1 or Type 2 Modic changes
other relevant sources (like facet joints or myofasical pain) have been rules out
Credits & Sources:
MedlinePlus

MedicalNewsToday

Relievant