Novel VDI
Versa-Kath Directed Epidural Injection
Disc Herniation can cause a pinched nerve and pain from it is felt in the arm or leg (in the area where this specific nerve travels).
Most back pain episodes heal over a short span of time, usually over weeks to months. The goal in the interim is to try to stay as active as possible and rely on over-the-counter pain relievers. Conservative options like home based exercise routines, physical therapy, chiropractic adjustments and acupuncture can help tide over this acute phase.
At times, these conservative measures fail to relieve the pain soon enough—especially if the problem is back pain caused by irritated spinal nerves. You may be offered a cortisone injection to calm the inflamed zone in your lower back. These injections (epidural steroid injection) provide a temporary measure of symptom control, and help you achieve the goals of staying active and complete your home exercise plan or chiropractic or physical therapy sessions.
The Main Issue
The goal of epidural steroid injection technique is to deliver the smallest effective dose of medication safely at the desired location inside the spinal canal. There are two main techniques to deliver steroid medication in the epidural space. The epidural space is the area between the dura mater (a membrane containing spinal cord/caudal nerve origins) and the bony spinal canal. It contains fat and small blood vessels. The space is located just outside the dural sac which surrounds the nerve roots and is filled with cerebrospinal fluid. Effectively, epidural space circumferentially surrounds the thecal sac (containing all nerve endings) and is then surrounded by the bony spinal canal.
The interlaminar epidural injection involves injection of medication in the dorsal (posterior or closer to skin) epidural space. As you can see from the picture, the location of disc herniation is on the ventral (anterior, deeper, away from the skin) epidural space. Although interlaminar injections are reasonable, they are clearly not precise. Interlaminar injections are also not indicated above the level of C6-C7 cervical space due to substantially high risk of spinal cord injury from the needle.
during interlaminar epidural injections, physicians utilize fluoroscopy or X-ray guidance to reach the entrance of dorsal epidural space. After completion of this step, they use "loss of resistance technique" to reach the epidural space. This requires a tactile sensation of losing "resistance" to a ligament (known as ligament flavum) demarcating the entrance to the epidural space. This "loss of resistance" helps to confirm that needle tip has reached the epidural space. A small volume of contrast is then injected, and visualized under fluoroscopy, as the final step of confirmation. This ligament is extremely thin above the C6-7 level and interlaminar technique cannot be safely performed when patients have a disc herniations above C6-7 location.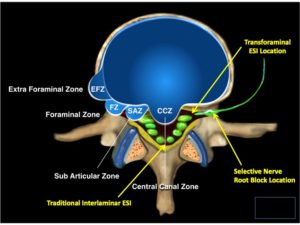 The other alternative is known as transforaminal epidural steroid injection. As you can note, the actual problem (inflamed nerve and the herniated disc) lies in the anterior (ventral) epidural space. Injection into the anterior (ventral) epidural space is considered more accurate. A handful of studies have shown better outcomes using this technique, while utilizing a smaller steroid dose. This injection carries slightly higher risk of nerve or a blood vessel injury, but lesser likelihood of injury to the dural sac (which can cause spinal headaches). Transforaminal injections are routinely used at the lumbar spinal level. They carry moderate risks in the thoracic or cervical locations.
VDI is a novel technique that avoids problems related to interlaminar and transforaminal approaches to deliver steroid type medication above the C6-C7 location. This technique is called VDI (Versa-Kath Directed Injection). This sophisticated technique involves placing the needle at a safer upper thoracic location, preferably T1-T2. Through this needle, a thin directional plastic catheter (VERSA-KATH: A 21g styletted spring-reinforced catheter, designed by EpiMed with a 1:1 torque control) is advanced and directed to the desired location. This technique potentially reduces risk of injury to spinal cord, blood vessel or exiting nerve roots. Dr. Sharma has performed hundreds of these procedures safely over the last several years with high success rates. None of our patients have suffered any nerve injury and not a single patient has suffered injury to rural sac. If you know that you have a disc herniation at C2-3 through C5-6 levels, consider talking to your doctor how epidural steroid medication can be safely delivered at these levels.

The procedure is performed as follows:
Patient is positioned in a comfortable position
Anesthesia is induced by an attending anesthesiologist
Fluoroscopic images (X-Ray) is used to identify the site of needle entry
Cannula (needle) is placed under live fluoroscopic guidance to the target T1-T2 thoracic epidural space
Versa-Kath catheter is then placed through the needle and directed to the target herniated disc level
Various safety steps are conducted to confirm accurate location
Injection of planned medication is made and catheter and needle are removed
A band-aid is applied at the needle entry site
Patient is taken to recovery area
Risks and complications
Bleeding or bruising at the needle insertion site
Infection
Nerve Injury
Aggravation of pain
Disclaimer:
The VDI technique is unique. Please discuss your case with Dr. Sharma's team for more details.

The VERSA-KATH® is a one-of-a-kind 21g styletted spring-reinforced catheter, designed by EpiMed with a 1:1 torque control and includes an award winning Stingray® Connector.