DRG Stimulation
DRG Neurostimulation
Dorsal root ganglion (DRG) therapy is a non-opiod therapy designed to manage difficult-to-treat chronic pain in specific areas of the lower body, such as the foot, knee, or groin. Pain in those areas is sometimes related to a cluster of nerves called the dorsal root ganglia (DRG). If you have pain in these areas, DRG Neurostimulator System can provide proven therapy to aid in treatment of chronic pain.
The DRG Neurostimulator System treats chronic pain in the foot, knee, or groin in patients with Complex Regional Pain Syndrome (CRPS).
Indications
Spinal column stimulation via epidural and intra-spinal lead access to the dorsal root ganglion as an aid in the management of moderate to severe chronic intractable pain of the lower limbs in adult patients with Complex Regional Pain Syndrome (CRPS) types I and II.
Study subjects from the ACCURATE clinical study had failed to achieve adequate pain relief from at least 2 prior pharmacologic treatments from at least 2 different drug classes and continued their pharmacologic therapy during the clinical study.
Please note that in 1994, a consensus group of pain medicine experts gathered by the International Association for the Study of Pain (IASP) reviewed diagnostic criteria and agreed to rename reflex sympathetic dystrophy (RSD) and causalgia, as complex regional pain syndrome (CRPS) types I and II, respectively.
How DRG Therapy Works
DRG therapy works by stimulating dorsal root ganglia (DRGs). These are structures along the spinal column made up of densely populated sensory nerves, and they act like traffic lights, regulating signals and sensations that travel through nerve fibers along the spinal column to the brain. Stimulating these structures can reduce pain in specific locations in your body.
Dorsal Root Ganglion (DRG)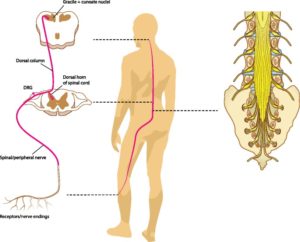 A dorsal root ganglion (or spinal ganglion; also known as a posterior root ganglion) is a cluster of neurons (a ganglion) in a dorsal root of a spinal nerve. The cell bodies of sensory neurons known as first-order neurons are located in the dorsal root ganglia.
The axons of dorsal root ganglion neurons are known as afferents. In the peripheral nervous system, afferents refer to the axons that relay sensory information into the central nervous system (i.e. the brain and the spinal cord). The dorsal root ganglia lie in the intervertebral foramina. The anterior and posterior spinal nerve roots join just beyond (lateral) to the location of the DRG.
A dermatome is an area of skin that is mainly supplied by a single spinal nerve. There are 8 cervical nerves (note C1 has with no dermatome), 12 thoracic nerves, 5 lumbar nerves and 5 sacral nerves. Each of these spinal nerves relay sensation from a particular region of the skin to the brain.
If your pain follows a dermatomal distribution and you have exhausted other options to treat your chronic painful condition, it is time to consider DRG stimulation. Watch the next video to learn more about dermatome, which is essential to this treatment.
Procedure
During the days before surgery, a doctor may recommend that a person avoids taking drugs that make it hard for blood to clot, such as plavix and warfarin. On the day of surgery, a person will probably be told not to eat or drink anything for several hours before the procedure. A person can take any medication a doctor approves, along with sips of water.
A surgeon will perform DRG neurstimulator procedure in a hospital. Patient are sedated using monitored anesthesia. The surgical procedure is as follows:
Patient is positioned in a comfortable position
Anesthesia is induced by an attending anesthesiologist
Fluoroscopic images (X-Ray) is used to identify the site of needle entry
Cannula (needle) is placed under live fluoroscopic guidance to the target
DRG lead is placed through the needle
DRG lead is connected to a generator
Various safety steps are conducted to confirm accurate location and stimulation in the painful area
Anchor is placed to hold the wire in place
Patient is taken to recovery area
Risks and complications
Bleeding or bruising at the needle insertion site
Infection
Failure of stimulation to cover your pain
Nerve Injury
Aggravation of pain
Credits & Sources:
Van Buyten JP. Dorsal Root Ganglion Stimulation. Essentials of Pain Medicine, Page: 683-692. e1 2018.

Deer TR, Levy RM, Kramer J, et al. Dorsal root ganglion stimulation yielded higher treatment success rate for complex regional pain syndrome and causalgia at 3 and 12 months: a randomized comparative trial. Pain. 2017; 158(4):669-681. (n=152).

St. Jude Medical™ Proclaim™ DRG Neurostimulation System Clinician's Manual. Plano, TX. 2017. Settings: 20 hz, 300 us, 0.8 mA for a dual lead system with 1 yr shelf life at 1600 ohms impedance 24 hrs per day.

https://www.physio-pedia.com/Dermatomes